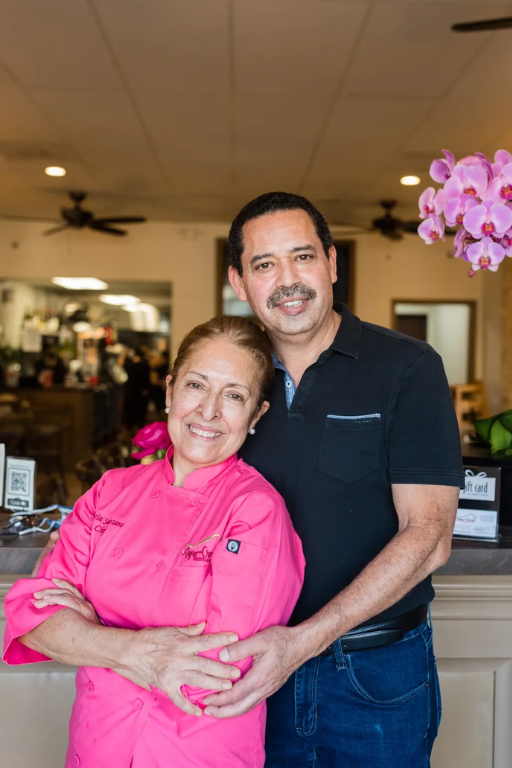 After running a catering business for years, our owners Alicia and Javier finally realized their dream of opening a restaurant with the founding of Raja's con Crema in 2019. As a family-run business, we know what it takes to provide our guests with delicious homestyle cooking and outstanding service. That's why all of our dishes are made from scratch using fresh ingredients and are always served with a smile. So come join us for one of our traditional Mexican dishes, like our popular raja's con crema. We also offer imported Italian pasta, juicy steaks, and vegetarian options — don't forget to ask about our drink and dessert menus, too! We look forward to serving you and making you feel at home.
Un restaurante pequeño de mucha clase y calidad; su comida me encanto pedi tacos de birria y el pollo con crema y rajas una delicia mmm.el postre Guayabate y icream se los recomiendo
hector romero
August 23, 2022.
This was a great experience for both my wife and I. The food was very tasty and the service was very nice and personable. Not only were the dinners great but the desserts were exceptional as well. I would definitely recommend this place to any and all of my friends. The pollo rajas de crema and the chipotle version were amazing.Everything was fresh and noticeably homemade, even the chips and salsas were top notch.
Troy Goodman
August 22, 2022.
Abraham Ramirez
August 18, 2022.
The place looks very nice and clean. It has a great atmosphere. The food is delicious.
Maria Sanchez
August 10, 2022.
Food is always on point, guayava margaritas are just perfect and hardly any wait time which makes it way better, definitely a must try if you haven't been.
Diego Guevara
July 17, 2022.
I love this place. The outside doesn't do justice to the look inside. You would never imagine how pretty and delish this place is. Family owned and ran. I've introduced this place to the locals that had no idea this was here. Some of them have tried to tell me there was no restaurant there (next to Ace Hardware). They also serve Alcohol, have happy hour and home made Agua de 🍍 and at times other fruits like 🍉 Have had many yummy dishes and have loved every single one, but yesterday we had the Carne en su Jugo, both of us LOVED it and last but not least, the Plátanos con Crema dessert is by far my fave from anywhere where I've had them before... Whenever in the area this is my lunch spot especially when taking a client along. These pictures are from my first visit, I had to have the Rajas con Crema and yuuuup they live up to the name. Sorry to the many other restaurants in the area that I have ghosted, but you can't blame me 🤤
Michelle Deras
July 14, 2022.
Toda la comida muy sabrosa, y la atención excelente!
Maribel Rodriguez
July 4, 2022.