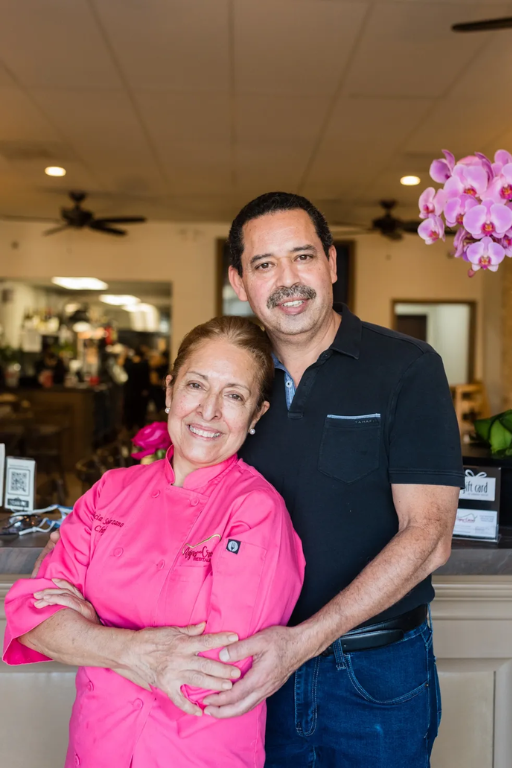 After running a catering business for years, our owners Alicia and Javier finally realized their dream of opening a restaurant with the founding of Raja's con Crema in 2019. As a family-run business, we know what it takes to provide our guests with delicious homestyle cooking and outstanding service. That's why all of our dishes are made from scratch using fresh ingredients and are always served with a smile. So come join us for one of our traditional Mexican dishes, like our popular raja's con crema. We also offer imported Italian pasta, juicy steaks, and vegetarian options — don't forget to ask about our drink and dessert menus, too! We look forward to serving you and making you feel at home.
Super leckeres und authentisches mexikanisches Essen (und Getränke) 😋 Das Lokal wird von einem Ehepaar geführt. Man erfährt einiges über die angebotenen Gerichte und bekommt tolle Empfehlungen. Preis-Leistung stimmt ebenfalls. Den Weg nach Maywood sollte man unbedingt machen. Wir kommen während unseres nächsten L.A.-Aufenthalts gerne wieder 😉
Klaus Hartmann
April 21, 2023.
The food is delicious and the service is not bad at all.
Awesome Mexican Food with plenty of choices !!!
Jose Fernando Martinez
April 20, 2023.
Muy rico todo lo que probé
Silvestre Romero
April 19, 2023.
One of the best Authentic Mexican Restaurants to eat at in Maywood. The Carne en Su Jugo is, excellent highly recommend it...
Jorge Flores
April 10, 2023.
I HAVE BEEN HERE TWICE AND BOTH TIMES WERE AMAZING! GREAT FOOD AND EXCELLENT CUSTOMER SERVICE!
Melanie Benavides
April 4, 2023.
The food was amazing, and the staff very accommodating.
Gabriela Leon
April 4, 2023.
I live an hour away, but my first visit a month or so ago was so good that I decided to make the trip and bring a friend along. We shared the enchiladas ( 2 chicken, and 1 cheese) and the Rajas Con Crema. The Rajas Con Crema is amazing and the enchiladas were good as well It was great meeting the owners husband Javier and chatting with him at length. Service here is outstanding. Everyone is so friendly. Just when we were about to ask for the check Javier recommended we try dessert as well, which we did. Not sure of the name but it was ice cream with some sort of fruit on top and it was delicious as well. Can't more highly recommend this restaurant.
Gary Ecdahl
March 31, 2023.